DEEP SEA FISHING CHARTERS
MIAMI
SOUTH BEACH
MIAMI BEACH
SPORT FISHING CHARTER BOATS
BIG GAME FISHING
FORT LAUDERDALE

WARNING ! CAUTION !
Some SPORT FISHING action photos on this fishing charter site may not be suitable for individuals belonging to organizations like

GREENPEACE, PETA, SIERRA CLUB, etc. We apologize in advance for any material that may be potentially offensive. Parental guidance is also suggested on some graphic content while big game fishing aboard our charter boat STRIKER-1.

Welcome to South Beach Miami and the number 1 sportfishing charter boat for rent that is affordable in South Florida. We are also South Florida's # 1 rated deepsea sport fishing charter fishing boat tour boat operation.... MONSTER FISHING CHARTERS was awarded the top top fishing boats for deepsea fishing charters in south Florida! THE SHARK HUNTER is also available for hire on daily or on a weekly basis as a private sportfishing captain on your fishing yacht.
We offer the very best in offshore sport Fishing YACHT Charters in Miami, Miami beach and south beach, Fort Lauderdale, Pompano beach, Boca Raton, Hollywood Beach, downtown Miami, Sunny Isles, Aventura, the Palm beaches as well as Islamorada, key Largo, marathon and key west in the Florida Keys. We also set up saltwater anglers with east coast tournaments and help catch offshore Atlantic sailfish, shark,dolphin,barracuda,grouper,tarpon,marlin, wahoo, Giant tuna,and other big game fish. Only the finest offshore sport fishing. I.e., Rods,reels,equipment is included in our deep sea fishing packages for your south beach vacation. ALL anglers are welcomed including novices, pros,handicapped anglers, junior anglers and kids of all ages Most of the big game fishing pictures you see on THE SHARK HUNTERS web site is taken in Florida's GULFSTREAM current only 2 miles off the gold coast of south Florida and south beach. We can also do big game deep sea fishing charters in the Bahamas or BIMINI . We have a custom home built in Eleuthera Island ( the spear fishing capital of the islands )where you can vacation and catch big game fish and freedive or scuba dive all in one! We can also service you on other BOAT YACHT CHARTERS and sales or brokerage including sightseeing boats, dinner cruise boats and high speed cigarette power boats, dive boats..snorkeling and scuba diving, jet skis and kayaks as well as the salt water offshore and inshore big game fishing charter. You can also contact your local concierge service at one of our recommended hotels on south beach or downtown Miami or Fort Lauderdale and the FLORIDA KEYS. Please enjoy our MONSTER FISHING WEBSITE where there are over 5,000 big game fishing pictures as well as 200 deep sea and sport fishing videos as well as deep sea fishing DVD's for sale. We are a better charter fishing boat than the saltwater sport fishing charter boats on the east coast and in the Florida keys including the fleet of deep sea fishing boats in Key west and have a much shorter run to the south Florida fishing highway called the GULFSTREAM. Most of the big game sport fishing and deep sea fishing charters in Key Largo as well as the charter fishing boats in Islamorada take as long as 1 hour to get to where the big game fish are. Our fishing charters catch trophy fish only 1 mile offshore with south beach hotels still in plain view!! Sport fishing and deep sea fishing off of SOUTH BEACH FLORIDA is also closer to the Gulf stream than the sport fishing charter boats for hire in Fort Lauderdale and Hollywood beach. Split party charters on our fishing boat tours with captain and crew are easily arranged. We also set up saltwater anglers with east coast tournaments and help catch sailfish, monster shark,dolphin,barracuda,grouper,tarpon,marlin, wahoo, Giant tuna,and other big game fish. The finest offshore sport fishing tackle I.e., Rods,reels,equipment is included in our deep sea fishing package for your south beach vacation.
Have a reel fishing adventure charter of a lifetime aboard his famous fishing yacht. Fishing trips and bay cruises in miami are our specialty. We have specials on bay cruises and trips.

CAPTAIN MARK THE SHARK....universally known as "THE SHARK HUNTER" says WELCOME ABOARD THE WORLD FAMOUS CHARTER BOAT " STRIKER-1" He will be your personal sport fishing guide. Expierence what thousands of people are talking about and come with him on the most famous fishing charters in the world. Now go catch a MONSTER FISH !!

Sailfish - Shark -Tiger Shark- Marlin - "Mahi" Dolphin - Kingfish - Golden Amberjack - Grouper - Snapper - Tilefish - live Bait - Reef - Wreck - Swordfish - Moray Eel - Manta Ray - Cobia - Stingray - Saw Fish - Jew Fish - Trigger Fish - Sand Tiger Shark - Hammerhead Shark - - Bull Shark - Silky Shark - Saltwaterfishing

THE CLOSEST SOUTH BEACH CHARTER FISHING BOAT ON THE FAMOUS
MIAMI BEACH STRIP !!! THE CELEBRITIES CHOICE FOR DEEP SEA FISHING CHARTERS WHILE IN MIAMI....Stars like ROBERT DINERO, WILL SMITH, AEROSMITH, SHAQUILLE ONEAL, ROBIN WILLIAMS and hundreds of others!!!
Reserve your deep sea fishing charter boat here: 305-759-JAWS

LISTEN IN ON ALL THE ACTION!!!!!....GET REAL LIVE FISHING REPORTS AND LOCAL WEATHER
HEAR THE "SHARK HUNTER" LIVE OFFSHORE ON HIS DIRECT LINE (305)-542-3474

FORT LAUDERDALE FISHING TOURS and sport fishing charters:

http://www.fortlauderdaletours.net/tours/tourDetail.cfm?tour_id=2620

MIAMI FISHING TOURS

THE BEST MIAMI FISHING CHARTER EQUIPMENT
http://www.miamitours.us/tours/tourType.cfm?ttid2=1817
STRIKER-1 preferred fishing gear sponsor!
Number 1 Ultimate Big Game Fishing Equipment
EVERYTHING SHOULD TASTE LIKE BACON!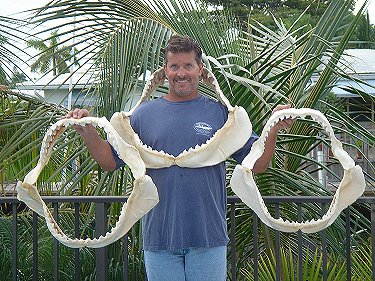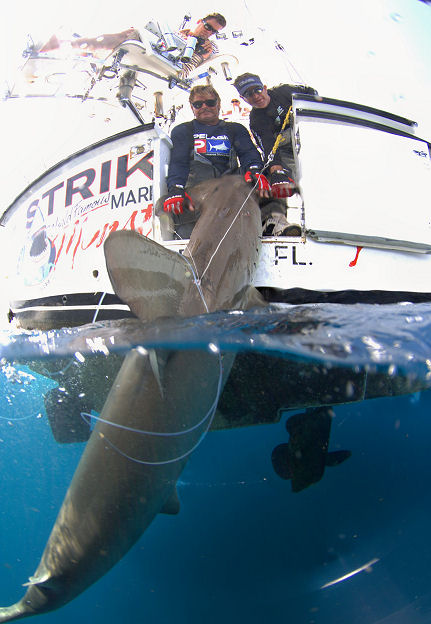 South Florida and Miami fishing available at an affordable price.
This site is copyrighted and all rights are reserved.
It is illegal to copy any text, graphics or other materials from this site.
Search Engine Submission - www.servicewrap.net : www.marktheshark.com - South Florida charter boat captain Mark the Shark is voted number one charter boat in Florida. Charter Legend, Captain "Mark The Shark" has been credited for capturing more sharks on rod and reel than any human being on the planet! Voted number one bachelor party boat. Voted number one fishing web site in the world. Miami Beach number one charter boat. www.marktheshark.com covers USA, Canada, South America, New York, Chicago and Toronto : - south florida charter boat - miami charter.

HOME | CHARTER INFO | RESERVATIONS | CLIENT PHOTOS | CONTACT US | VIDEOS | LIVE WEATHER | STORIES
FREE NEWSLETTER | FEEDBACK | GIFTSHOP | CATCH OF THE WEEK | FISHING FUNNIES & MUSIC | LINKS

Welcome to Miami's number one charter fishing boat that is affordable in Miami beach. We fish for sailfish and marlin, swordfish and grouper, shark and mahi-mahi dolphin. Wahoo and tuna better here than Boca Raton, Fort Lauderdale, West Palm Beach and Hollywood. Florida Keys Key largo and Key West are not as good as Miami Beach Sport Fishing with Mark the Shark. Key West trips available, boat rentals, bachelor parties and Bahamas as well. Over night swordfish trips, live bait, tournaments and private parties welcome. Underage Kids are always welcome on the striker-1 with young anglers and make a wish foundation with south beach boys and girls club. Chicago, New York, Canada and Boston Midwest snow-birds always come back to Miami beach to fish for Marlin and Sailfish and Shark with the The Last Shark Hunter. Deep sea fishing Miami Charter Boat methods include drift fishing wreck fishing and high speed trolling. Sportfishing kite sport fishing deep drop gulf stream sport fishing. Power boats, south Florida monster fishing with ace number one charter boat sport fishing boat captain Mark the Shark. Haulover inlet star island venetian island hibiscus and port everglades are not as good as government cut. South Beach vacations with hatteras 50 foot sport fish hotel concierge and night clubs and bars. Saltwater Penn reels alutecnos tournament reels with professional affordable fishing charter boat crew services for hire.